Macchines
Idrojet Evo double rail irrigation boom
Idrojet evo double rail irrigation boom: stability and reliability
Nebulizer boom for protected crops watering, fertilizing and spraying, a simple, robust and trustworthy solution for your irrigation needs.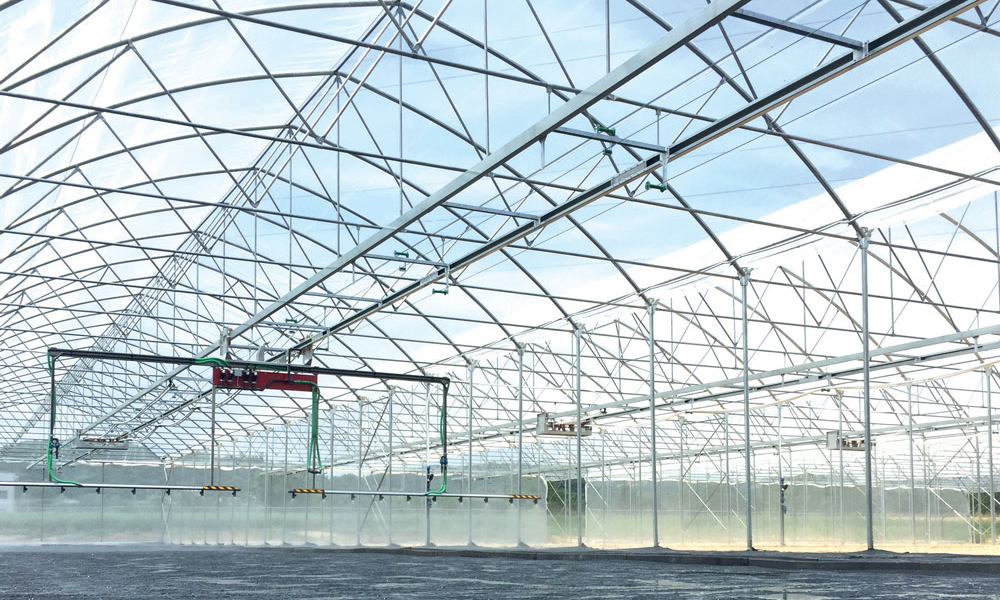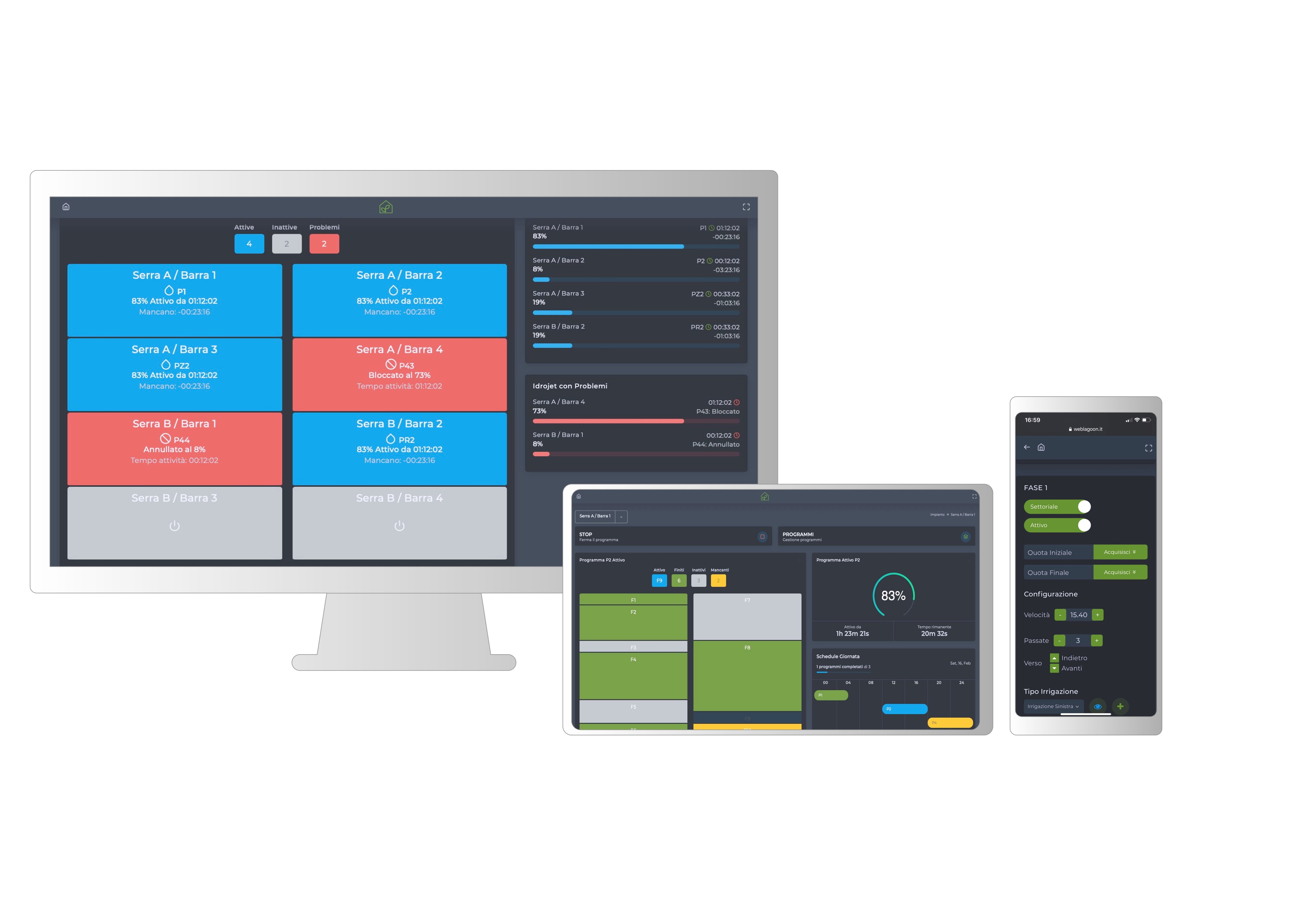 NEW SMART CONTROL
Booms with smart control. With the new app the booms con be managed through WI-FI from smartphone, tablet or PC.
The Idrojet EVO Touch 2.0 DB booms are irrigation machines with recirculating pipe suspension systems, the water piping and the power cables "recirculate" on the greenhouse air stirrups without creating obstacles to things or people.
SELF-LEARNING SYSTEM
The machine slides on double rail, which guarantees its stability. The recirculation satellite is moved synchronously via cable referrals. The machine is equipped with a self-learning system that calculates, at the first start-up, the greenhouse exact length. From the greater efficiency and automation production point of view, it is possible to create the daily and weekly watering programming that can be modulated in continuous, sectorial or flow. The electronic control panel and power control panel can be controlled by smartphone wi-fi connection, tablet, or PC using our new appliance.
MANUAL ASSISTED MODE
The bar maintenance and use manual guides the user in manual assisted mode, in the creation of programs for automatic irrigation and in the correct use of the machine according to safety standards. The machine is conformed with EC declaration of conformity.
GENERAL MACHINE CHARACTERISTICS
New APP for smartphone, tablet and PC WI-FI controll.
GENERAL PROGRAM FUNCTIONS
Automatic reset to machine power supply
Manual movement and / or manual opening ev and selection of pipelines (possibility to make a pass without recalling a program)
½ use i/o with assignment of the only in use functions
Possibility of stop altitude anticipation to improve its accuracy
To avoid collisions with the limit switches or dangerous speeds on the fnish there is a possibility of two slowing threshold settings at the end of the bar (manual setting or finish point self-learning)
ALARMS MANAGEMENT
Encoder alarm management
Overturning / collision error management
Inverter error management
AUXILIARY OUTPUTS
Buzzer, cycle, flashing, error
Up to 3 conducted solenoid valves
Up to 8 irrigation solenoid valves
PARKING FUNCTIONS
"home" bar parking
"final" bar parking
"altitude" bar parking
PROGRAMS
Possibility to manage up to 10 programs, each up to 40 (sectors or flow function)
Possibility of automatic start of time (up to 10) weekly function
Possibility to disable not currently used sectors (avoid redoing the program due to an unused sector)
Possibility to insert new sectors or flows into a program already done (automatic memory shift / creation of intermediate flow sectors)
SECTORS
Start and finish sector setting
Irrigation speed assignment
Solenoid valves choosing possibility
Only forward or backward wetting
Irrigations number (max 99)
Possibility to switch solenoid valves at the last irrigation altitude (for pipe washing or fertilizer switch)
FLOW
Initial altitude assignment
Seconds time assignment (up to 6000 ")
Pipes and solenoid valves assignment
Possibility to repeat the flow up to 99 consecutive times with advancement of "X" cm
GENERAL MECHANICAL CHARACTERISTICS
Steel structure
Aluminum profile of our design (continuous or portal)
Galvanized double rail
Cable traction
Power supply: 230 v single phase 50hz
HYDRAULIC CHARACTERISTICS
Number of main pipelines: from 1 to 3
Number of irrigation lines: from 1 to 8 (depending on the model)
Automatic management of fertilizer / treatment doser
Nozzle holders, teejet nozzles
Recirculating tube (up to 3 lines available: water / fertilizer, high pressure, air)